Welcome to the Builderall Affiliate Program!
The affiliate program is free to anyone that would like to join. Create an account (free or paid) and then access the affliate area from the dashboard. You must agree to the terms of service for the affiliate program to participate. Once you access the affiliate area, you will see many different tools and features that are available to our affiliates.
How do I Become a Builderall Affiliate?
---
Review of the Affiliate Dashboard
---
How do I access and share my affiliate link?
---
What is Builderall's Leveraged Affiliate Program?
We've spent a few years and millions of dollars developing the most powerful digital marketing platform, website builder, and business model.

Today, Builderall is a massive internet marketing toolkit with thousands of users around the world. The Builderall Leveraged Affiliate Program is a leg of our marketing arm that we use to sell our platform every day around the world.

No matter what niche, every business owner and entrepreneur is a potential customer of Builderall. Demand is high and constantly growing, and our goal is to reach one entrepreneur in every home.

We've already paid millions of dollars to our affiliates, and you have the opportunity to become one of our affiliates as well. You can utilize our system, products, and sales funnels to begin generating money today and every day for years to come.

There's no better time for you to take advantage of this incredible opportunity to join Builderall's Leveraged Affiliate Program.

CLICK HERE to join our Builderall Affiliate Facebook group and keep updated with the latest meetings and trainings for all Builderall members.
Important:
1: To join our affiliate program, you don't need to purchase a product or plan from Builderall, neither pay any fee. Builderall does not sell its Business Opportunity. The Builderall Affiliate program is free.

2: Affiliates do not earn commissions for referring a new affiliate.

3: Commissions are only generated when a Builderall product or plan is sold to a customer, and every affiliate earns recurring commissions from their direct and second tier sales.
How do I Start?
How Does It Work?
1: To join the Builderall Leveraged Affiliate Program, you don't need to pay any fee or purchase any product.

2: Affiliates do not earn commissions for referring other affiliates.

3: Commissions are only generated when one of the Builderall plans is sold to a customer, and every affiliate earns recurring commissions from their direct sales.

4: This is a 2-tier commission system. Affiliates can earn commissions from Builderall plans sold by any affiliates they've directly referred to the affiliate program.

5: No affiliates can promote Builderall by making earnings or income claims. It is acceptable to explain that Builderall has an affiliate program, but the affiliate is prohibited from stating or implying that another user or affiliate will earn a certain amount of money by using or promoting our platform. If an affiliate shares proof of their own earnings, whether from using the platform or from promoting our products, they must use an earnings disclosure created by Builderall. The disclosure must not be buried in a disclosure link at the bottom of the page. The disclosure must be located in close proximity to whatever image, text, or video displays their earnings or the earnings of others. The disclosure to be used is as follows:

As with any business – your results may vary and will be based on your individual capacity, business experience, expertise, and level of desire. There are no guarantees concerning the level of success you may experience. There is no guarantee that you will make any income at all and you accept the risk that the earnings and income statements differ by individual. Each individual's success depends on their background, dedication, desire, and motivation.

6: The commission on any monthly recurring plan for the user's first month (and commissions for affiliates who have not been paid at least $250.00) will be on hold for 35 days before becoming available for withdrawal. Once an affiliate has been paid at least $250.00, the recurring commissions will be available after a 5-day hold.
---
How do I make money as an Affiliate?
---
How do I scale my business?
---
What is Our Business Potential?
---
Accessing Builderall Resources for Promotions
---
Reviewing Leads and Active Members and How to send them Messages
STEP 1:
On your dashboard, click on "Affiliates".

STEP 2:
Scroll and click on "Leads".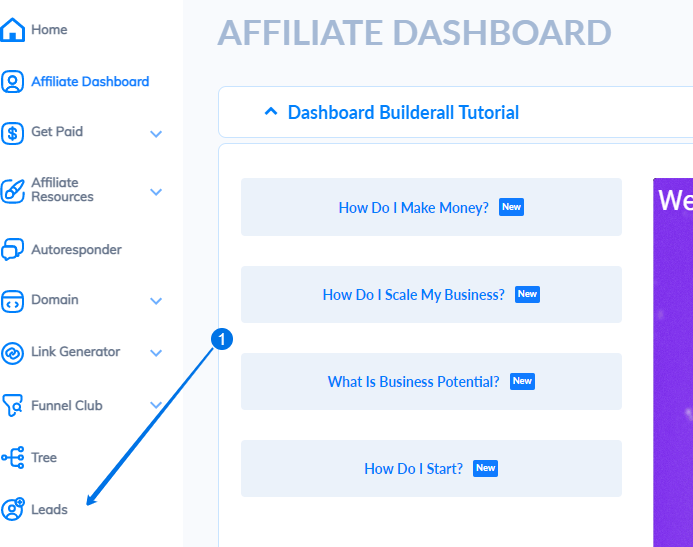 STEP 3:
You can filter your leads by Status:
Inactive – When a lead is no longer active or did not upgrade.
Active – A paid account member.
Test – A lead that is still in their trial period.
Free- A lead with a free account.

Save email list
Download CSV
Download XLS

STEP 4:
Your lead's Affiliate ID.
Affiliate Name and Email.
Affiliate Sign-up date.
Where your Affiliate came from
Type: Is the lead a Customer or Affiliate
Parameters: For tracking purposes
The Status of the lead: Active, Free, Test
Plan the lead signed up for.

STEP 5:
You can set up parameters for your leads, tracking them by adding tags. Adding tags can be added in the Funnel club Tab under Tracking Tags.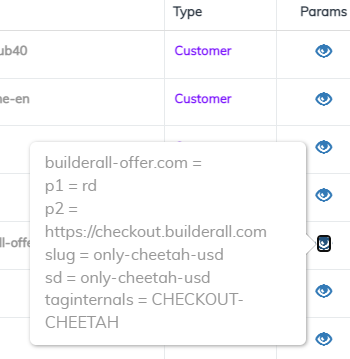 ---
Adding Leads Automatically to MailingBoss
---
Creating Your Own Email Sequence
---
Staying Tapped in to Trainings and Meetings
Builderall Business App for Affiliates