In this tutorial you will learn how to create your own test for your students in eLearning.
Step 1: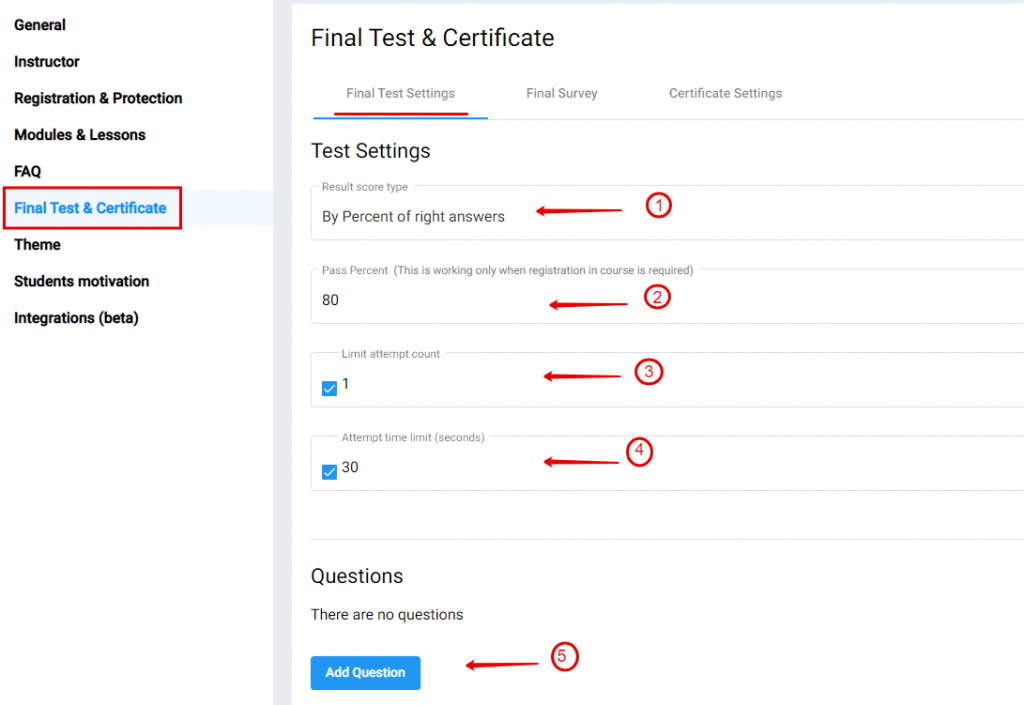 Scroll down to "Final Test & Certificate
Click on "Final Test Settings"
Under "Test Settings" Choose from the "Dropdown Arrow:"

By percent of answer or
By values amount of right answers

In this example we use By Percent and therefore the Pass Percent is 80. (Note: Only works when registration in course is required
Tick and add the number of how many times your student can attempt to do the test
Tick and add the number of attempts by seconds. (This is not compulsory)
Click on "Add Question" You can add multiple questions
Step 2:

Under the "Questions Editor" choose the "Type" of the question you want to add.
(In Step 3 – 8 is examples for each)
Step 3: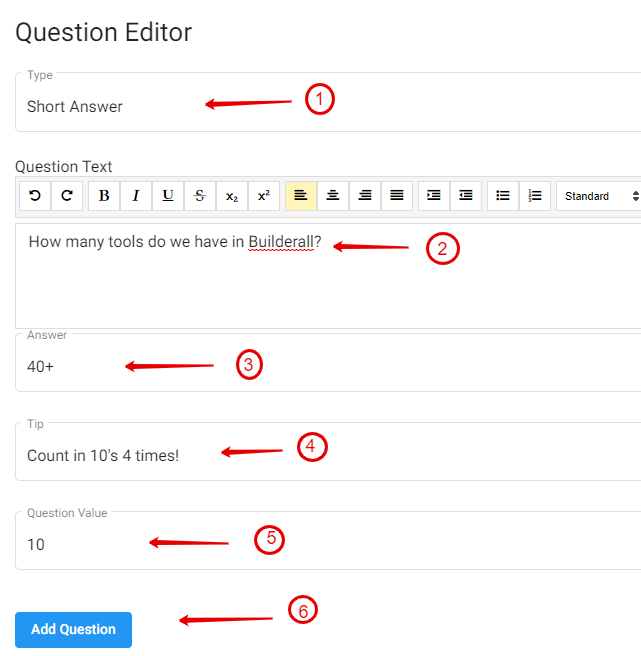 Type: Short Answer
Add the "Question Text"
Add the "Answer"
Give a "Tip" – not compulsory
Give the "Value of the Question"
Click on "Add question"
Step 4: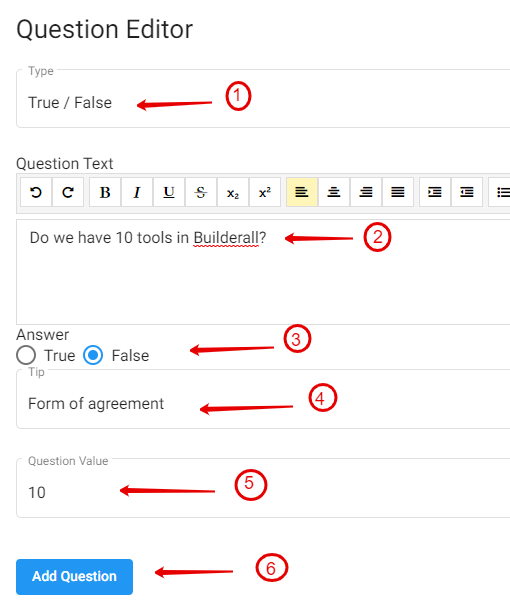 Type: True / False
Add the "Question Text"
Tick the right answer
Give a "Tip" – not compulsory
Give the "Value of the Question"
Click "Add Question"
Step 5: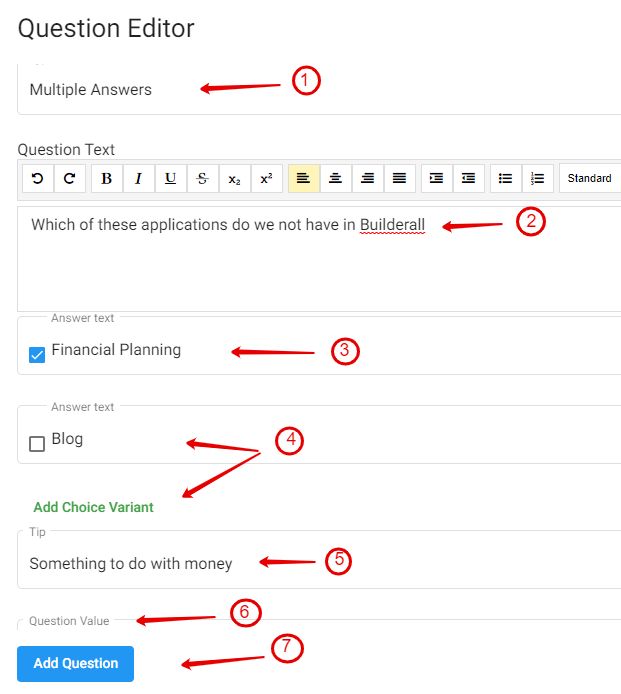 Type: Multiple Answers
Add the "Question Text"
Tick the right answer after…
You have created all the different variants
Give a "Tip" – not compulsory
Click on "Add Question"
Step 6: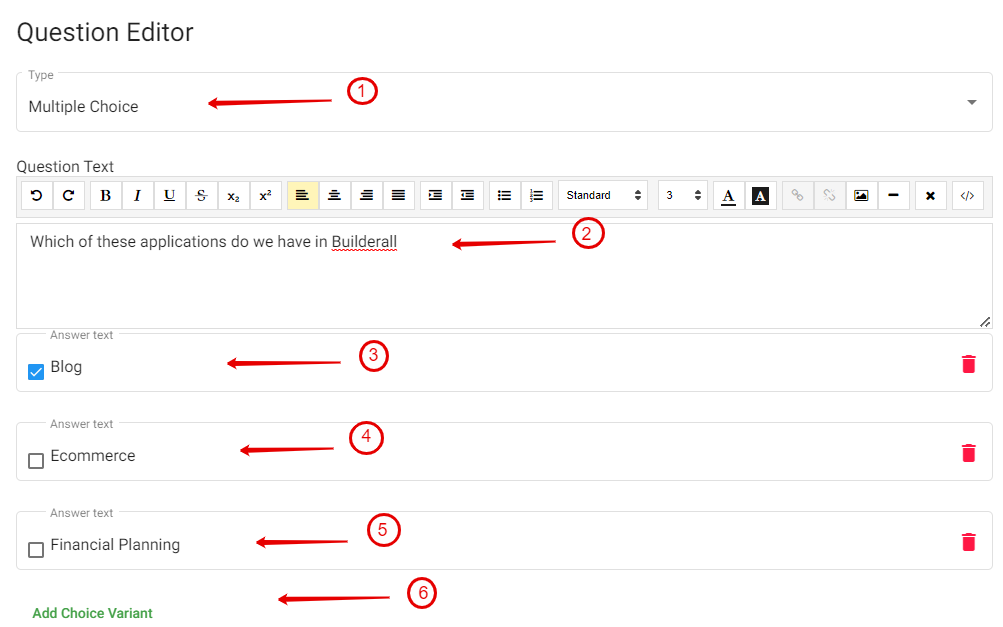 Type: Multiple Choice
Add the "Question Text"
Variant 1: Is the right answer – tick to enable
Variant 2
Variant 3

You can have more variants

Click on "Add Choice Variant" to keep adding
Step 7: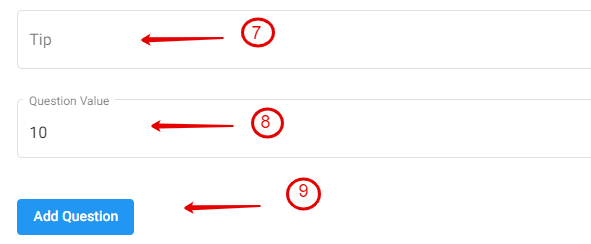 7. Give a "Tip" – not compulsory
8. Add "Question Value"
9. Click on "Add Question"
Step 8: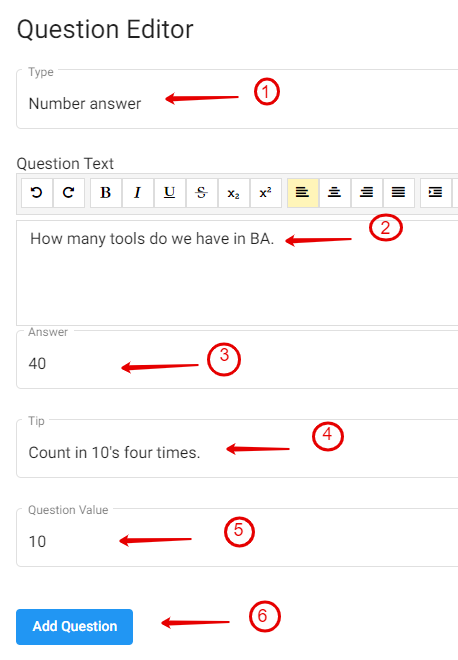 Type: Number answer
Add the "Question Text"
Add the "Answer"
Give a "Tip"- not compulsory
Add the "Question Value"
Click on "Add Question"
Step 9: