STEP 1
In Mailingboss 5.0 Click on either "Create a new record" or "Create List"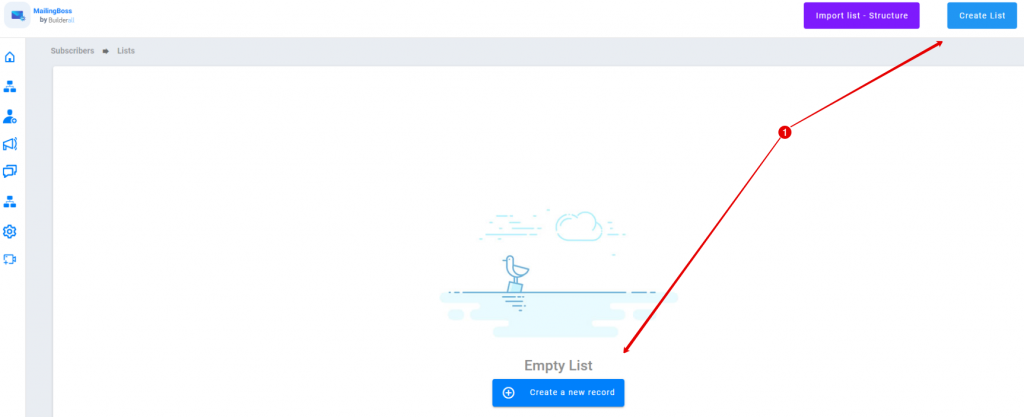 ---
STEP 2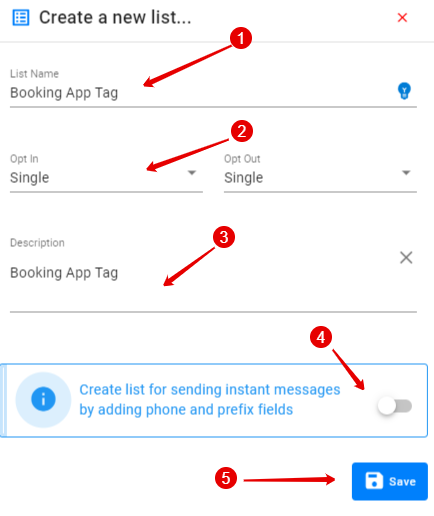 Give the list a name
Choose Single Optin because it is a booking and no confirmation is required
Give the list a description
If you want contact numbers, you can enable it here
Click "Save"
---
STEP 3
Make sure you choose a verified email address by using the drop down arrow
Write the Subject of the list
Add the reply to email address. It can be any email

---
STEP 4
Go to Forms
Drag the field "Single Text Field" under the "FNAME" field
Write the name of the Field
Make sure to enable "Hidden"
Click "Update"

---
STEP 5
Go to the Booking App and create a new Calendar. You can have multiple Groups.
Create all the Basic Settings as well as the Schedule, but make sure to create a clear identification between the groups. In this example, we have two Groups.
Group 1 is called: Web Design Consultation

---
STEP 6
Click to go to Group 2
Group 2 is called: Chatbot Consultation
Click "Save"

---
STEP 7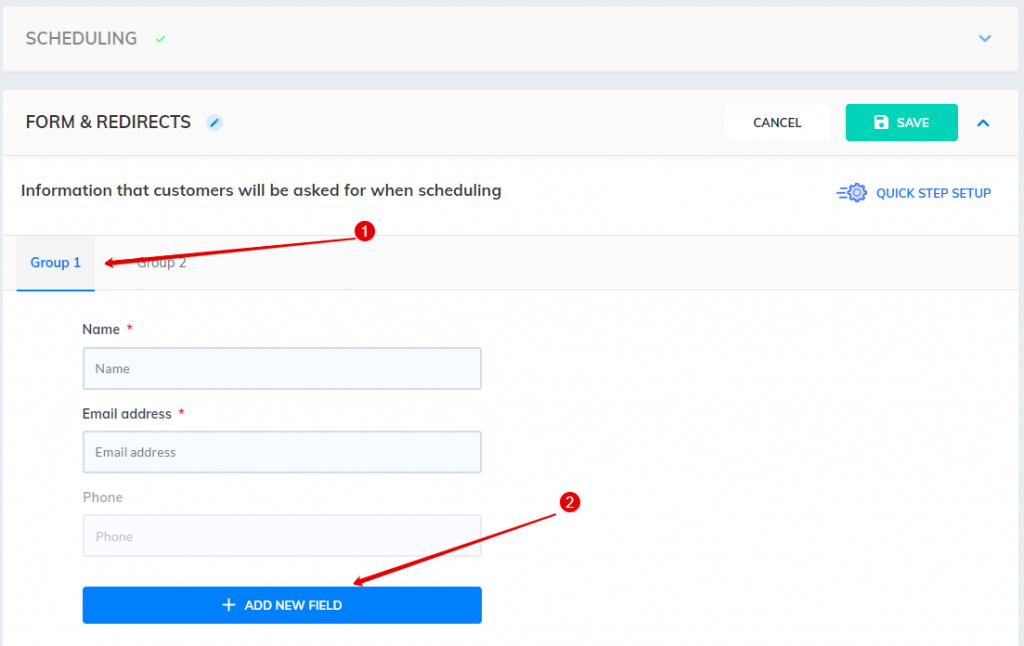 Complete filling in all the information and scroll to "Form & Redirects".
Click on Group 1
Click on "Add New Field"
---
STEP 8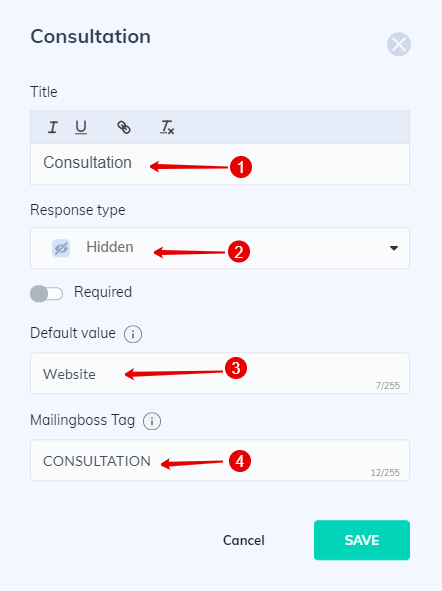 Give the Title a name
Make sure to choose "Hidden" in the drop-down area
Add the value of what you want to see in Mailingboss here
Make sure to use the exact field name that you have created in Mailingboss here
---
STEP 9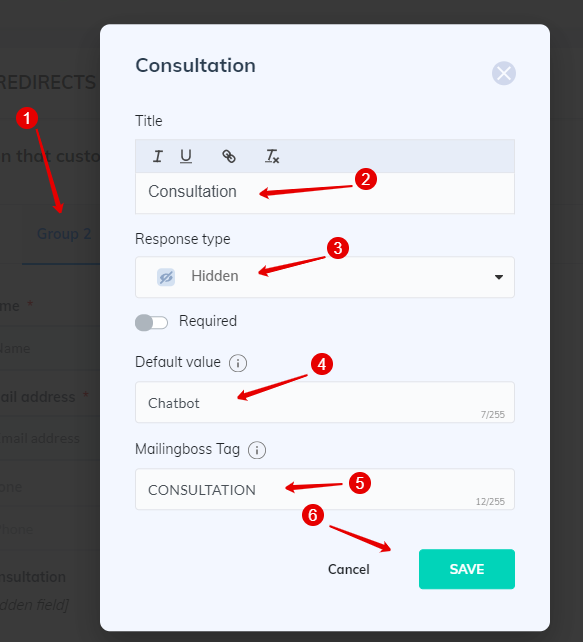 Choose Group 2 (if you have more groups)
Give the Title a name
Make sure to choose "Hidden" in the drop-down area
Add the value of what you want to see in Mailingboss here
Make sure to use the exact field name that you have created in Mailingboss here
---
STEP 10

Complete all the other fields and scroll to Automation
---
STEP 11
Keep scrolling until you see "Subscribe to a list"
Choose the Group
Make sure to tick "Subscribe to a list"
In the drop-down, choose the list you have already created
Click on "Add"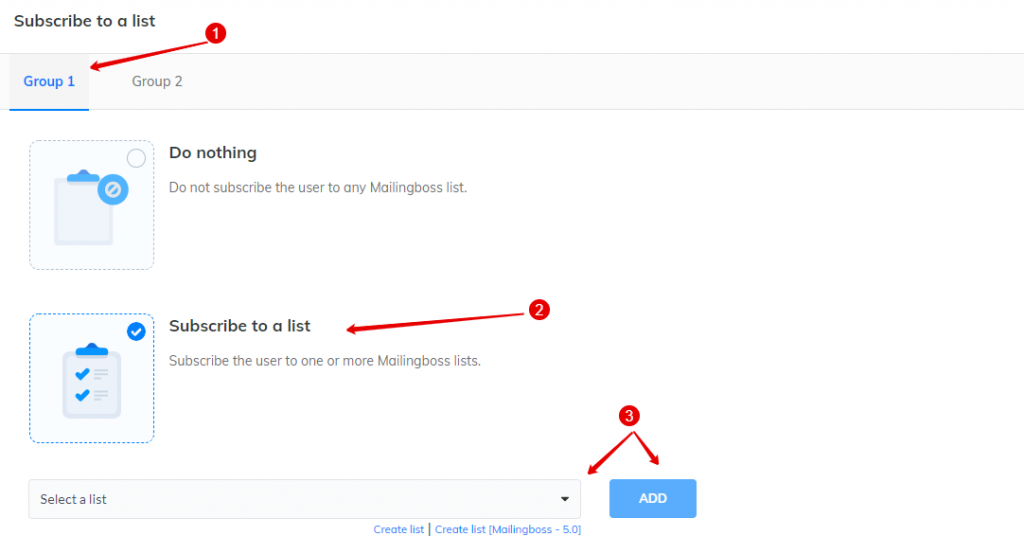 ---
STEP 12
You will note, after you have added the list, it will appear in a block like this with the words "Available Tags"

---
STEP 13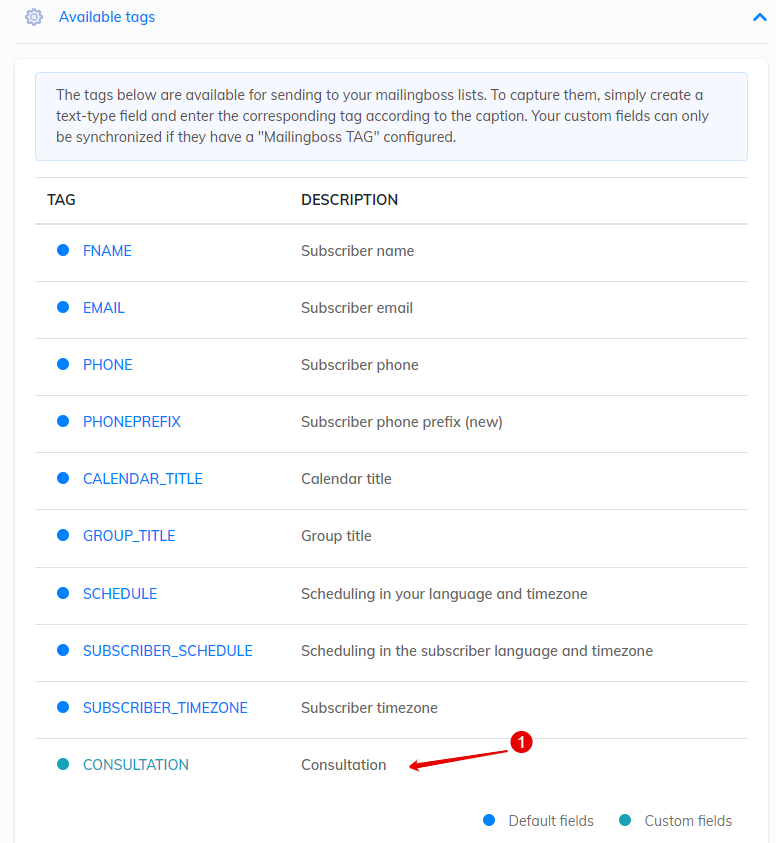 Click on "Available Tags" and scroll to the bottom. Verify that the tag appears
---
STEP 14
Click on "Save"

---
STEP 15
After bookings are made in the Calendar, you will be able to verify the tag by going to the list in Mailingboss 5.0 and click on the drop-down-arrow

---
STEP 16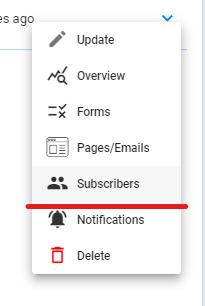 ---
STEP 17
Then, choose "Update"

---
STEP 18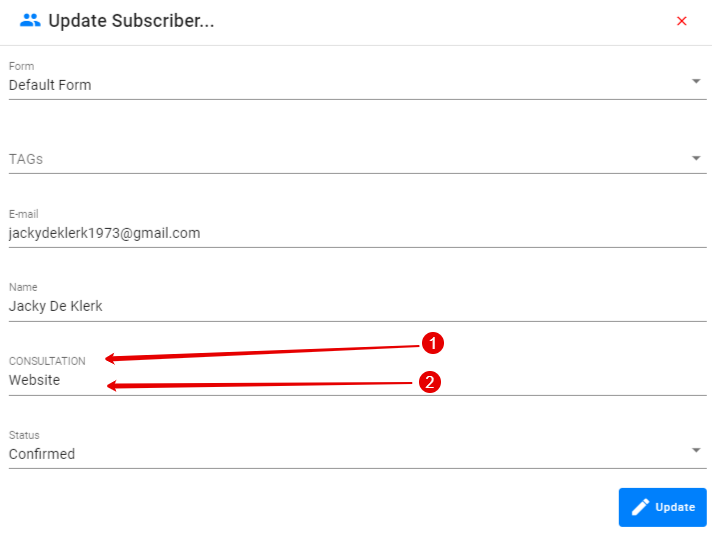 You will see the Mailingboss Tag: CONSULTATION
You will see the Field Name: Website